The University of Alabama at Huntsville (UAH), part of the University of Alabama system, announced that Bryant Bank has pledged $1.5 million to the UAH College of Business (COB), one of the largest gifts ever were ever made to college. An initial payment of $100,000 will be followed by 14 annual payments of the same amount through 2035. This pledge will benefit business students at the university by establishing an unendowed college scholarship fund called the Bryant Bank UAH Business Scholarships.
"We appreciate the trust that this gift from Bryant Bank represents," said Dr. Jason Greene, Dean of UAH COB. "As one of the largest in the college's history, we believe it reflects the importance of business at our university and in our community. We are committed to building these partnerships to drive business innovation in the Huntsville community, and we are grateful for the leadership of Bryant Bank in supporting us in this."
Annual distributions from the fund are used toward one or more scholarships awarded to undergraduate students pursuing a College of Business degree. Freshmen must have a cumulative GPA of at least 3.25 on a high school 4.0 scale. Existing or transfer students must have a minimum average of 3.0 on a 4.0 scale for college-level coursework. Students are preferred based on the following criteria: students with unmet financial needs; students from Alabama communities served by Bryant Bank; and students who are graduates of the Alabama School of Cyber ​​Technology and Engineering.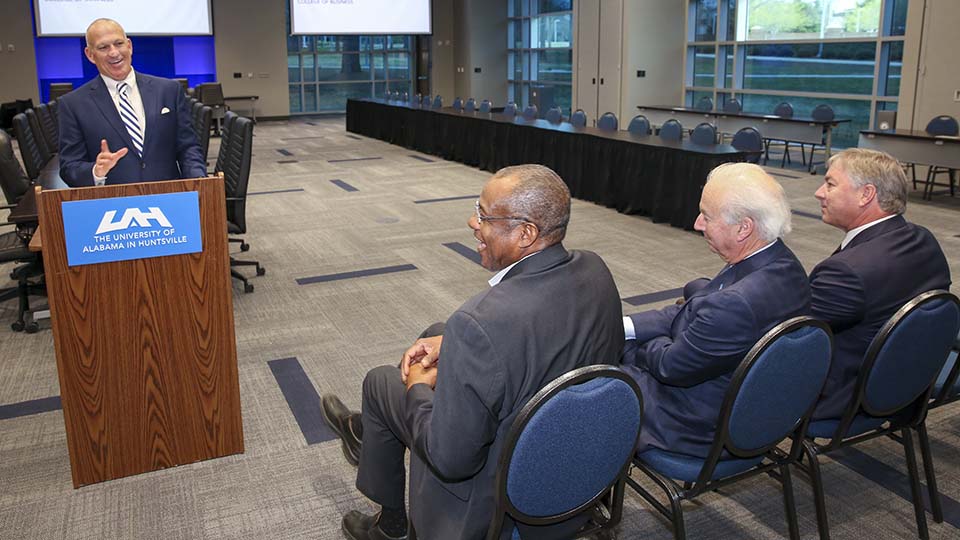 Michael Mercier / UAH
"On behalf of the Ownership Group, Board of Directors and our team at Bryant Bank, we are pleased and honored to present this gift to the UAH College of Business," said Ken Watson, President of Bryant Bank. "While these funds will be used specifically to increase interest and enrollment in the business school, this investment will also provide valuable future resources for our growing business community. We are truly blessed and grateful to have the opportunity to support UAH, its leadership team, faculty and students, and we know this donation will help empower potential, which is one of our core values ​​at Bryant Bank is."
Students receive awards of $2,500, $5,000, or $7,500, and the larger of these awards is given to students with greater needs who receive less financial support from other UAH scholarships or grants. The scholarship recipients are selected by the university's funding committee.
Each grant is valid for one year. Recipients may be eligible for an additional year, up to a maximum of four years, or until completion of degree requirements, whichever is shorter, as long as the recipient maintains full-time enrollment and continues to make satisfactory progress toward a degree with a minimum GPA of at least 2.75 on a 4.0 scale. A scholarship may also support other academic expenses in addition to the cost of the recipient's tuition, fees, and books. Each scholarship recipient is referred to as a "Bryant Bank UAH Business Scholar".
Bryant Bank's contributions to the UAH support a number of additional university programs and organizations.

"As a loyal partner to the UAH, Bryant Bank's contributions to the university include the establishment of the Bryant Bank UAH Excellence in Nursing Scholarship," said Mallie Hale, UAH vice president for university advancement and executive director of the UAH Foundation. "This scholarship supports students in the Early Doctorate into UAH Nursing Program (EPNP). Such a grant draws qualified nurses to Huntsville, in the state of Alabama, and beyond. As of April, Bryant Bank has generously provided UAH with US$972,000 since its launch in 2005. Bryant Bank's partnership with the UAH makes Alabamaers healthier by strengthening families and communities, leading to a brighter future for all."
Bryant Bank also recently made a $25,000 gift to UAH Charger Athletics, a pledge that will be used to support 14 men's and women's athletics programs.
"We are grateful for the impact of Bryant Bank, not just on our college but on our entire university," said Dr. Greene. "Such generous support for the College of Business, College of Nursing and Athletics demonstrates Bryant Bank's commitment to the health, prosperity and well-being of our university and our community."
Founded in 2005 by Paul W. Bryant, Jr., Bryant Bank's vision is to provide every Alabamaan with a financially stable future and a life in a thriving community. Bryant Bank has put diligence into action to help Alabamaans reach their full potential every day. The bank has 17 branches and a credit manufacturing office in five of Alabama's six largest markets and employs more than 260 bankers. A new branch for the Limestone County community is currently under construction and is scheduled to open in fall 2022. Bryant Bank offers personal, commercial and mortgage banking services, as well as treasury management services, correspondent banking and capital markets.
---